Proud to be the home of Estrela Mountain Dogs and Portuguese Podengo Pequenos (Smooth and Wire Varieties)
Please watch the video of the beautiful property our dogs get to enjoy.
Star Mountain Kennel from First Light Studios on Vimeo.
Please click on the breed name or their pictures to find out more information about these beautiful dogs.   Puppies?  Please contact us  or look on our puppy page for more information.
"The Estrela Mountain Dog is a breed of dog that has been used to guard herds and homesteads in the Estrela Mountains of Portugal for centuries." Also known as Estrela, Portuguese Shepherd or Cão da Serra da Estrela
"The Portuguese Podengo is an ancient multi-sensory hound (sight and scent) breed of dog from Portugal." Also know as Podengo Portugues or Portuguese Warren Hound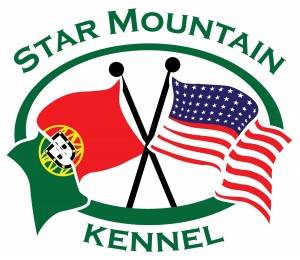 Star Mountain Kennel of Connecticut Features Rare Portuguese Dog Breeds
Margaret Boisture operates Star Mountain Kennel, located in Northern Connecticut.
The kennel features rare Portuguese dog breeds that include the small Portuguese
Podengo Pequeno and the large Estrela Mountain Dog.  The kennel has been in operation
since 2010.

Connecticut – January 2015

Take a visit to Star Mountain Kennel and one will immediately notice that the kennel's focus in on Portuguese breeds, the small Portuguese Podengo Pequeno, the large Estrela Mountain Dog, and the Pyrenean Mountain Dog.  The kennel caters to the demands of customers who are fond of rare Portuguese breeds, and operator Margaret Boisture, wouldn't have it any other way because as she states "the dogs are part of the family."  Customers should call to make an appointment prior to visiting the kennel.  Upon arrival, they will have the opportunity to meet the dogs and enjoy the acreage and beautiful grounds.  Customers can also learn about the dogs and read more about the kennel online.

The Portuguese Podengo Pequeno is the national dog breed in Portugal.  The small Podengo was recognized by The American Kennel Club in 2013.  The Portuguese Podengo Pequeno is the smallest of the three sizes of the Podengo breed.  Pequeno means small.  While this breed lacks in size, they make up for in character.  It is a small dog with a big heart.  It is a superb companion dog, due to their obedient, friendly disposition.  They are very agile, lively and alert. Due to their small size they are equally at home in a city as well as in the country.  They are happy, loyal, attentive and fearless.  They make for a very good house guard, easy to keep, good with children and other dogs.  They adore attention and are very playful.   In addition they are very intelligent and are very quick to learn.  The life expectancy of a small Podengo is around 12 to 16 years.  Their height can vary from 8 to 12 inches.  They can weigh from 8 ¾ lbs to 11 lbs or 4 to 5 kgs.

The Estrela Mountain Dog (Portuguese Shepard) is one of the oldest breeds of dogs from the Iberian Peninsula.  Estrela Mountain Dogs are devoted friends and protectors.  This is a large dog with great agility to fight off large predators, bred to be a flock guard dog for sheep and goats but still be a family dog.  The Estrela temperament is loyal, affectionate to those he trusts, aloof, intelligent, alert, and inclined to be stubborn.  It is considered a rare breed in the United States and is recognized by the United Kennel Club (UKC).  Desirable height for mature males is 25½ – 28½ inches and for mature females is 24½ – 27 inches. Mature males in good working condition weigh between 88 and 110 pounds.  Mature females in good working condition weigh between 66 and 88 pounds.  Life expectancy is around 12 to 16 years.

To learn more about Star Mountain Kennel and to contact them visit their website at : www.starmountainkennel.com

For more information, and to adopt a new puppy contact:

Margaret Boisture at 860.707.9666

Or email her at: starmountainkennel@gmail.com

Star Mountain Kennel has been in business since 2010.  Star Mountain Kennel is proud to be home to dogs from three great breeds: Estrela Mountain Dogs, Portuguese Podengo Pequenos (smooth variety) and Pyrenean Mountain Dog.
Proud to be a BRED with H.E.A.R.T breeder.
Looking for a name for your new pup dog name ideas